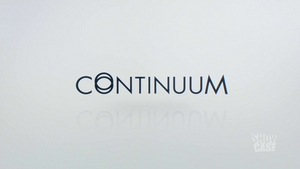 Season 3 of Continuum is set to premiere in Canada in March 16, 2014 at 9pm ET/PT. It will then premiere three weeks later in the US, on April 4 at 10/9c.
It was officially announced on June 5, 2013[1], halfway through Season 2. Production began on November 20, 2013.
Kiera Cameron's chance of getting home was hijacked when Alec Sadler, in hopes of saving Emily, the girl he loves, used the time travel device.
This act of desperation not only jettisoned Alec into the near past, but it condemned Kiera to incarceration by the Freelancers, who are 'collecting' time travelers in order to protect history. Now, Kiera must face the consequences of Alec's betrayal and somehow escape the Freelancers. Even if she can, has Alec's decision to time travel already changed the future in ways Kiera couldn't even imagine? What will Kiera sacrifice to ultimately survive—and how will Liber8 factor into this challenge?
Kiera must also contend with a newly strategic Liber8 organization, and a growing darkness in her police partner, Carlos Fonnegra. Ultimately, all roads lead through young Alec Sadler, and with his genius never having been more tested, his choices force Kiera—and everyone—to examine all they hold dear.
"Season three of Continuum will raise the stakes and expand the universe of our show in ways that will surprise and engage our fans," said creator/executive producer Simon Barry. "Kiera's journey brings her experiences that test her beliefs and challenge her resolve. The future is not what it used to be."
Main Cast
Edit
Episode Guide
Edit
See also: Episode Guide
| # | Episode Title | Director | Writer/s | Air Dates |
| --- | --- | --- | --- | --- |
| 1 | Minute by Minute | Pat Williams | Simon Barry | March 16, 2014 |
| 2 | Minute Man | Pat Williams | Simon Barry | March 23, 2014 |
| 3 | Minute to Win It | Pat Williams | Shelley Eriksen | March 30, 2014 |
| 4 | Minute Changes | William Waring | Denis McGrath | April 6, 2014 |
| 5 | 30 Minutes to Air | William Waring | Jonathan Lloyd Walker | April 13, 2014 |
| 6 | Wasted Minute | Amanda Tapping | Jeremy Smith & Matt Venables | April 27, 2014 |
| 7 | Waning Minutes | Amanda Tapping | Sam Egan | May 4, 2014 |
| 8 | So Do Our Minutes Hasten | Pat Williams | Jeremy Smith & Matt Venables | May 11, 2014 |
| 9 | Minute of Silence | Pat Williams | Simon Barry | May 25, 2014 |
| 10 | Revolutions Per Minute | David Frazee | Denis McGrath | June 1, 2014 |
| 11 | 3 Minutes to Midnight | David Frazee | Jonathan Walker | June 8, 2014 |
| 12 | The Dying Minutes | Simon Barry | Shelley Eriksen | June 15, 2014 |
| 13 | Last Minute | William Waring | Simon Barry | June 22, 2014 |
References
Edit